Why I LOVE the 4th of July...
*BBQs (Ya, food is at the top of my list...so?)
*Sparklers
*Parades
*It's a day when I can more seriously ponder how blessed I am to live in a country where I have have so many freedoms and opportunites...something I usually take for granted
*The American Flag is out just about everywhere
* It's the essence of summer
*I get to think about my Grandpas and all the others who fought and still fight and sacrifice to protect our freedoms
* And because 9 years ago on July 4th, Chad and I went on our very FIRST DATE!



First Date Flashback...
I had just turned 16 that May (the summer before my Junior Year) and there I was...sitting in my room a few days before July 4th...still hadn't been on my first official date. Didn't anyone get the memo? Hello...I'm 16 now...Date-able! (actually, I was totally shy and nervous around guys so i really wasn't surprised) Then all the sudden the phone rings and my sister answers it (most of the calls were for her anyways) but, to my surprise, she hands the phone to me and says "it's a boy!" I got my composure calm and cool, then took the phone. It was CHAD SMITH, he was asking me out for the 4th of July!!! I said yes and when I put the phone down I jumped up and down and squeeled like any girl would do if a super cute guy asked her out on her first date! That night I figured out what I was going to wear. (I still remember...it was my favorite gap jeans and the new pink tanktop with little pink flowers on it that I had just bought)
He picked me up and we doubled with one of his friends who took out my friend Katrina. We went to dinner and then to watch the fireworks at Thanksgiving Point. I just remember that I was super awkward and nervous. I had no idea what to talk about and I think the whole night I was worried about what I was going to do at the doorstep when he took me home...do i give him a hug? a handshake?(I hadn't ever kissed a boy so ALL interaction was awkward)...I ended up giving him a HIGH FIVE!!! ha ha...good thing he gave me another chance and asked me out again that summer. He always gave me the butterflies and it didn't take long for me to know he was special!

Happy First Date anniversary to us!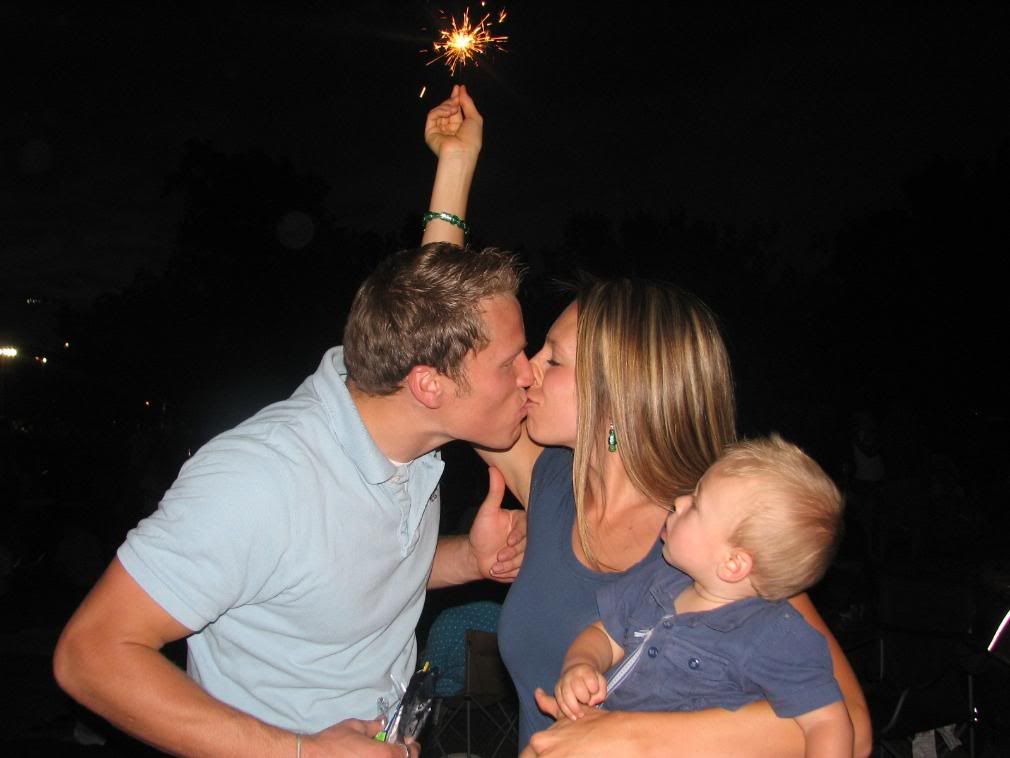 (this picture is the ugliest kiss of the century but i had to put in on here because it makes me laugh! You can't tell unless you zoom in, but our noses are smashing and Chad is laughing!)